This gorgeous, anti-inflammatory Moroccan Chickpea Couscous Skillet is a healthy vegetarian meal that's freezer-friendly!
Freezer Friendly and Oh So Good!
This healthy vegetarian meal is packed with anti-inflammatory ingredients like:
Cauliflower
Turmeric
Garlic
Couscous
Garbanzo beans
Vegetable broth
And comes together to make the most flavorful and delicious vegetarian meal (basically the vegetarian meal of my dreams). And did I mention it is also super freezer friendly?!
First things first, our homemade Moroccan spice blend is a MUST for this recipe. But have no fear, you likely have these 7 spices in your kitchen already:
Cumin
Turmeric
Ginger powder
Garlic powder
Chili powder
Cayenne
Salt
How much does a batch of this spice blend yield? If you make one batch of this spice blend, you will get around ~ 3 tablespoons of spice.
This Moroccan chickpea couscous recipe here calls for 2 tablespoons, so you'll have a little extra to keep on hand and use with one of our other delish Moroccan-inspired recipes below!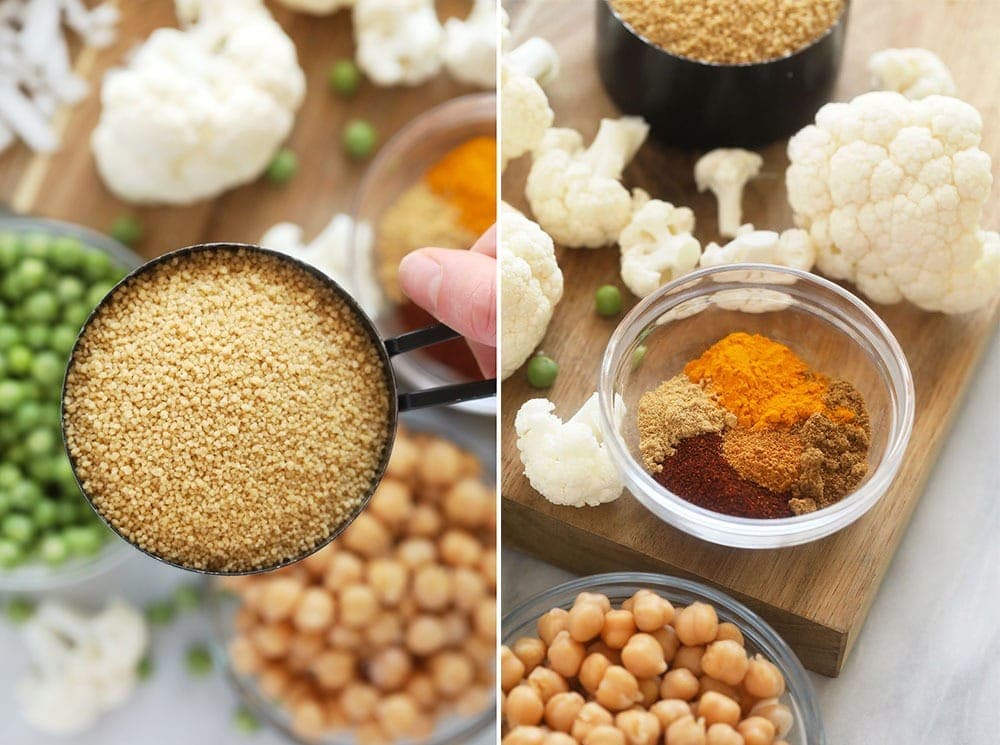 How to Make Moroccan Chickpea Couscous
This vegetarian skillet is not finicky AT ALL to make despite the longer ingredient list of nutrient-packed veggies. We'll walk you through each step:
Sauté Veggies
Heat olive oil over medium/high heat in a large nonstick skillet. We used a 16-inch skillet, but any larger size will work as long as it's deep enough to hold all the ingredients + broth.
When the olive oil is fragrant, add in the onion and garlic, and sauté for 2-3…
Read More…