Easy, fast, and delicious, these are the best banana muffins ever! Light and fluffy, they are fantastic on their own OR with chocolate chips (or other add-ins)!
Today I bring you the best banana muffins in the universe. And if you didn't think you needed a go-to banana muffin recipe in your life, I'm here to tell you that you may want to rethink that. 
I have a lot of banana-flavored snacks and muffins and desserts and things on my site. But I haven't had a classic, best-ever, you need this in your life banana muffin. Until now. 
These banana muffins are super easy and pretty basic. But they taste like a million bucks – light and fluffy and perfect.
Chocolate chips or not
Whenever I make them, I'm surprised at how much my kids like the plain-as-can-be, every day banana muffin. 
No add-ins. No frills. Nothing fancy. 
Just a wonderful, lightly sweet banana muffin. They love them. My 15-year old ate seven of them last week when I made these even when they were sitting right next to a batch of banana muffins with chocolate chips. 
I wondered for a second if he could truly be my child. But then stopped overanalyzing and did the right thing by not letting those chocolate chip ones go to waste.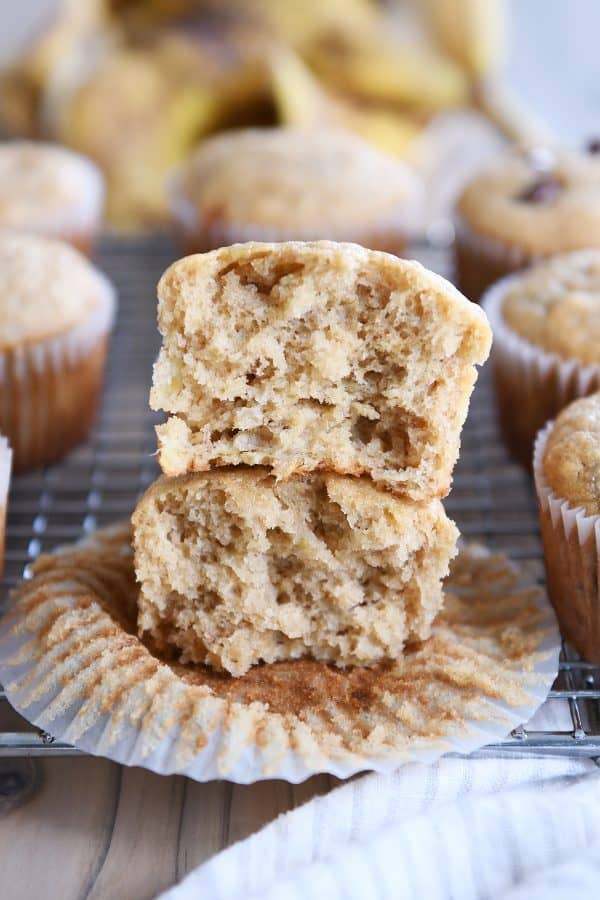 These banana muffins are as basic as muffins get in terms of mixing and baking, but they are so soft and moist and tender. Seriously, they're so good. 
Mix up the muffins
I like to mix the dry ingredients separately from the wet ingredients and then add them together. 
But you…
Read More…