Overnight Steel Cut Oats are an excellent healthy breakfast idea for busy mornings. This super simple overnight oats recipe is made with a base of quick cooking steel cut oats, chia seeds, and almond milk.
This is a great basic overnight steel cut oatmeal recipe that you can make your own with add-ins. Get inspired from our other flavors: peanut butter overnight oats, apple cinnamon overnight oats, and chocolate chia overnight oats.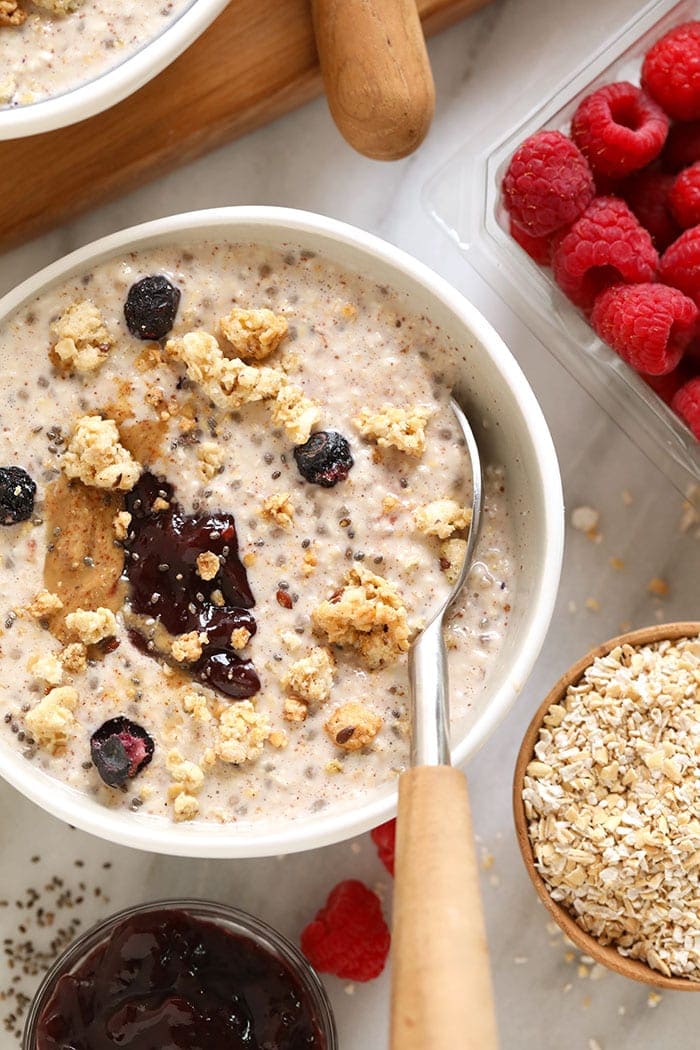 Oatmeal fans, today we are taking overnight oats to the next level with a never-before-seen recipe on FFF –> Overnight Oats with Steel Cut Oats!
Think of our classic overnight oats, but with a little bit more of a bite to it and all the same benefits! This recipe actually uses quick cooking steel cut oats as we found using actual steel cut oats is too hard on the tummy!
How to Make Overnight Steel Cut Oats
The process of making overnight steel cut oatmeal is so easy! It's all about your liquid to oats to chia seed ratio in order to get the perfect texture.
Here's what you need for the base:
Instructions
This recipe takes about 5 minutes to prepare but has a soaking time of at least 2 hours, so just be prepared. All you have to do is mix everything together in a glass container and let her soak! We like using a 4-cup Pyrex measuring cup.
Can I use normal steel cut oats instead of quick cooking steel cut oats?
The burning question for overnight steel cut oats is: can I swap the quick cooking steel cut oats for normal steel cut oats and vice versa?…
Read More…