A little healthy and a little indulgent, these dark chocolate brownie granola bars are incredible (and they're also dairy-, egg-, and gluten-free)! Soft bake them or add time for a little crunch!
I kind of hate the overuse of the word "obsessed" these days, but I'm just going to go ahead and a) cringe, b) call myself a hypocrite, and c) say: I'm totally obsessed with these dark chocolate brownie granola bars. 
And I really mean it. No hyperbole here. Ob.Sessed.
Healthy enough to fall into the solid granola bar category but indulgent enough to be a serious treat, we can't keep these around longer than a day (two days max).
Inspired by this ridiculously delicious dark chocolate granola recipe, I knew I had to try a brownie/bar form after a reader (thanks, Rebecca!) said she had done the same in order to make that crazy popular granola more portable. 
The end result is a lightly sweet chocolate granola bar that is a little bit soft and a little bit crunchy. (Not a chewy granola bar.)
The basic premise is the same: dry granola-y ingredients are tossed with a simple, sweet syrup.
Here are the differences:
instead of being baked and then broken into clumps, the granola mixture is pressed into a 9X13-inch pan and baked
in addition to the oats, coconut, cocoa powder and almonds, a little bit of almond flour is added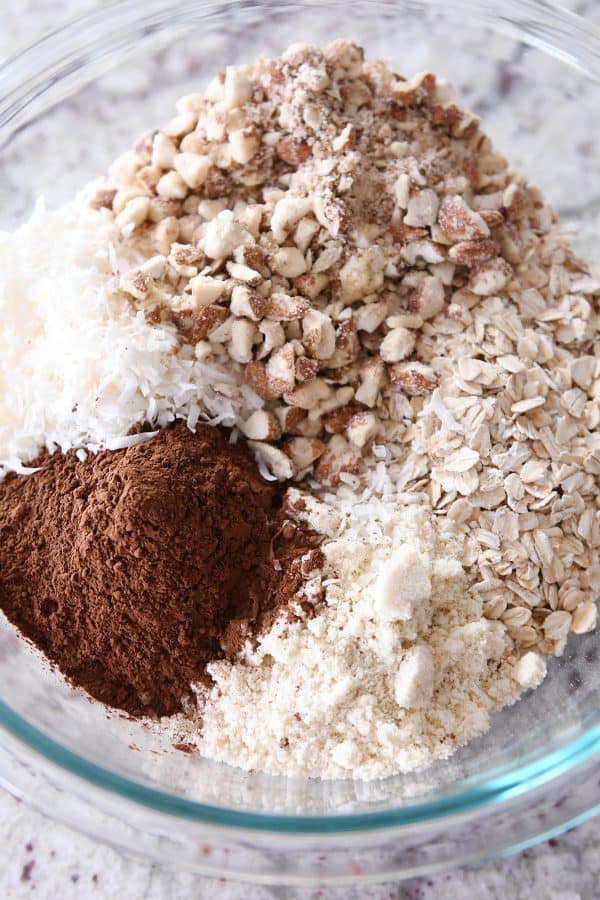 Flour Substitutions
Why do these granola bars need flour?
Well, the flour lends a bit more structure to the bars instead of the fall-apart gaps that the otherwise…
Read More…